Tips to Conduct a Tenant Walk-Through
February 27, 2023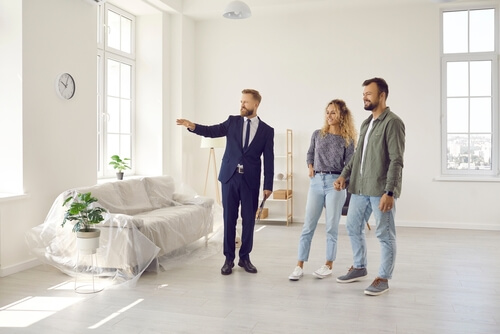 The walk-through is a crucial part of welcoming a new tenant to your property. Not only does it set a benchmark for the end-of-lease review (and the all-important security deposit return), it can help set the tone for your relationship. That's why it's important to be thorough, helpful, friendly and knowledgeable.
As you complete your own inspection, look at the rental space through the eyes of a new renter to see if there are any areas for improvement. That way, you can tell curious tenants what's already in line to be addressed. They'll thank you for your diligence, and they'll be more responsive and helpful in return.
Let's dive into some of our best practices for conducting a tenant walk-through and how a management team like Classic Property Management can help.
What is the Importance of a Walk-Through Inspection?
You're starting off on the right foot with your tenant on one of the most exciting days they'll have in their new home. By demonstrating your attention to detail and comfort, you create an atmosphere of trust. This means you reduce the risk of them hiding anything from you, and you limit the odds of any unpleasant surprises.
Remember, the walk-through and its documentation have legal consequences. This is the document determining how much of your renter's security deposit will be returned at the end of their time with your property. This could potentially be a difference of thousands of dollars: dollars that could be very important to your renter in their next move, whenever it might be.
Showing care and practicing diligence here at the beginning of your arrangement will not only help you start your tenant relationship, but come in handy for you when it's time for them to move on and for you to do a final walk-through to compare the state of the place to the record you're making today.
Have a property management team take the reins on prepping your essential documentation. They're prepared up to the minute to ensure you're following best practices, and make the process much simpler.
What are Tenants Looking for in their Walk-Through?
Tenants want everything in their new place to be working well and smoothly, in tip-top shape and most of all, clean. They chose your rental property because they were able to picture themselves living there, and a bright and shining new place will keep their spirits high.
An enthusiastic tenant is one who will meet their obligations and make your experience as a landlord a pleasant one. Just remember, meeting their expectations starts at your final walk-through.
What Should Landlords Look for During an Inspection?
Every property has its tricks, quirks and previously repaired damage. It's up to you to make sure your tenants know anything and everything they'll need to be successful.
Neither party should feel rushed at any point. A great tip we've developed over the years is actively eliciting questions from new tenants to make sure they understand everything involved with moving onto your property,
From the way the stove works to that circuit breaker in the bonus room that has been prone to failure in the past, it's critical that you leave no stone unturned as you make your way through the inspection process.
How Should You Prepare for the Inspection?
Familiarize yourself with previous walk-through notes so you know what to expect. Any correspondence with the previous tenants or your future tenants is worth reviewing for special circumstances.
If this will be the first time you meet your tenants, make sure you know their names and some general details so you can help make them feel at home.
What if Red Flags Pop Up During the Inspection?
If something does come up, like an extra repair or cosmetic blemish that needs attention, make sure you both note it on your walk-through checklist. Then you will know what to put on your first work order, and you demonstrate your willingness to help your tenants in their new home.
If wires do get crossed, those repairs don't solve the problem or that fence never gets painted, your tenant knows they won't be held responsible down the line.
Bring Renters Home With Classic Property Management
If you're a landlord and you're looking for just the right renters for your property, let Classic Property Management help you! Helping people with their new homes is a source of pride for us, and we're ready to help you market your property, screen potential renters, and find the right people to live in your homes. To learn more about what we can offer you, from the walk-through to daily maintenance, contact us today.